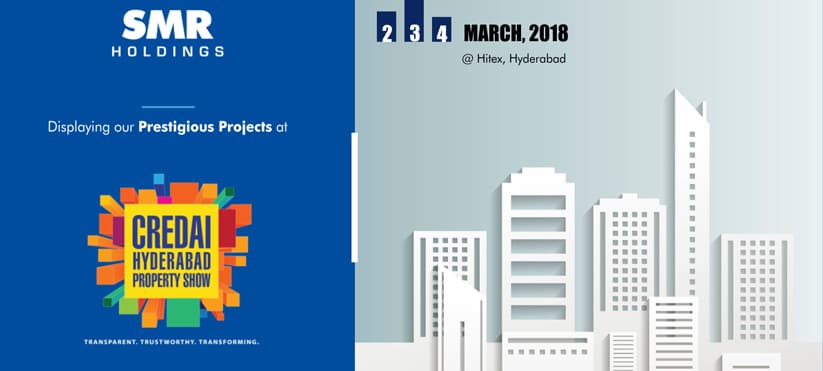 Property Shows
A property show, as it names suggests is a one place where all the property builders gather to sell their projects at reasonable prices. Everyone prefers to go to a property show because of the multiple options available to select from.
CREDAI (Confederation of Real Estate Developers Associations of India) is the apex body of private Real Estate developers representing 11,940 Members spread across 23 State level Chapters and 189 City level Chapters in India. CREDAI is now ready to host it's 6th property show in hyderabad and this time it is bigger than ever before with over 15,000 projects on display from over 120 developers. The three-day property show will bring together 120 developers including realtors, building material manufacturers, consultants and financial institutions from across the city to show the advances in the real estate sector under a single umbrella.
Mr. S. Ram Reddy (Chairman and Managing Director of SMR and the President of CREDAI-Hyderabad) has been an active part of CREDAI and will also have his 7 Projects on Display, showcasing properties that suit every need and budget and thereby provide consumers a chance to get the best options for home solutions in the city. The list includes integrated townships, apartment complexes, gated communities, villas and green buildings with special impetus on retail and commercial complexes.
This property show will be held on 2nd, 3rd, and 4th of March 2018 at Hitex Exhibition Center, Madhapur. SMR has its own stall - Platinum 1 showing all the properties. This list Includes SMR Vinay Iconia, Harmony County, Estella, Metro Mall, Casa Carino, Capitol, Business centre and Corporate spaces. Come and visit the platinum stall to get the best of the deals.